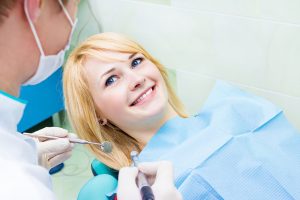 When seeking to pare down their budgets, most heads of households know that health coverage will be one of their biggest expenses. They know that taking care of their family's health can not be overlooked. Just the same, some will cancel their dental coverage citing its cost, and elect instead to pay as they go. They think that by cutting back on routine cleanings and only seeing their dentist when there is an issue, will prove to be cheaper over the long term.
This is penny wise and pound foolish thinking that can actually jeopardize their family's health. Preventative dental health care treatments help to avoid infections throughout the body that are caused by gum disease. In fact, sound oral health habits are the foundation to a lifetime of overall good health. Quality dental care however, should not create financial hardship. Low cost dental plans, which are not dental insurance, provide an affordable means by which every individual has access to quality dental health care.
The following comparison demonstrates the value that dental plans, such as the EDP Dental Plans, provide for their members: low cost dental coverage of the highest quality. While not health insurance, dental plans offer discounted dental services from qualified dental professionals, which can offer individuals, couples and families substantial savings for the highest quality dental care. EDP Dental Plans make maintaining their dental health affordable for everyone.
How to Know the True Cost of Dental Insurance Coverage
There is a common belief that only expensive dental insurance coverage provides quality dental care. This is not true. For those who have dental insurance through their employer, it is important to know how their money is spent. First, the cost for this coverage is drawn from the member's paycheck every pay period. In addition, when they visit their practitioner, the patient pays a set amount as a co-payment for treatment. Routine treatments such as cleanings and dental checkups are generally covered in full as members have paid for them via their payroll deductions.
This means that patients who see their dentists for services other than routine cleanings, may be expected to pay the full cost for treatment upfront at their practitioner's office, and later are reimbursed by the carrier only for what is covered. Members may not realize that most covered amounts are for what the carrier determines are reasonable and customary. Also that practitioners themselves can charge additional administrative fees for processing insurance claim paperwork, making it difficult to predetermine if a patient will receive an invoice for a portion of the services their carrier determines are above the reasonable and customary amount. This way it can be difficult, if not impossible, for those with dental insurance to budget for family dental care.
High Quality, Low Cost Dental Care for EDP Members
This is not the case with low cost dental plans such as EDP Dental Plans. There are plans for individuals, couples and families. Members pay an annual fee and a modest first time enrollment fee. Members may opt to pay the annual amount in full, or to have payments divided up into monthly installments. The same day that members enroll, they may select a practitioner from EDP's roster of highly qualified professionals and call for an appointment. There are no waiting periods for treatment, nor is anyone excluded from membership. It is open to all.
Because qualification criteria is stringent, many of the best local practitioners are participating dentists and specialists with EDP Dental Plans. Additionally, members are often pleased to find that their existing dentist is among EDP's practitioners. Those with dental insurance who require specialized treatment, are usually disappointed to learn that their carrier does not cover treatment by dental specialists at all. EDP's low cost dental plans, however, not only offer 25% discounts for care from a dental specialist, but also cover more dental specialties than other dental plans. In addition to general dentists, EDP covers pediatric dentists, maxillofacial specialists, endodontists, periodontists, prosthodontists, orthodontists and oral surgeons.
For everyone, but especially for large families, EDP Dental Plans prove that maintaining their oral health does not have to be expensive, in fact the plan quickly pays for itself in savings. With a low cost EDP Dental Plan, members save up to 60% on routine dental procedures. This is a great benefit for those on fixed incomes as well as for individuals and families. For those who do not have access to dental insurance, a low cost dental plan from EDP is the best solution for maintaining sound oral health. For a list of sample fees in your area, check EDP's Fee Schedule. For more information or assistance with enrollment, call us at (800) 777-1085 today!