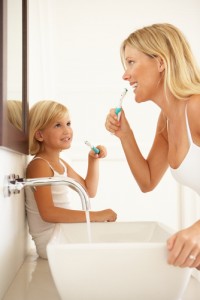 When it comes to buying dental health products, it's important to know which products are best for you and your family. Even though most supermarkets and drug stores carry similar products and brands, you want to ensure that what you bring home is safe, effective and risk-free. So, how can you tell which products are ideal for your oral health?
Look For the Seal
The American Dental Association has made it their mission to improve oral health and promote safety and effectiveness of dental products.  In order for a product to receive their stamp of acceptance, it must go through rigorous testing. Hundreds of companies seek the ADA Seal for toothpastes, denture products, mouth rinses and more.
ADA Seal Requirements
There are certain qualifications that must be met in order for dental products to earn the Seal of Acceptance. A company must: 
Submit product information and a complete ingredient list for review.
Perform clinical testing with compliance to ADA guidelines and procedures.
Supply clinical and laboratory data to ensure safety, effectiveness and integrity.
Provide evidence of adequate laboratory and manufacturing facilities.
Submit product packaging for review of accuracy and precision in advertising.
What the Seal Means to You
Use ADA approved dental products as a guideline to help you make educated decisions about your oral health. The Seal is a promise of protection from the dental products you buy, giving you confidence in the product and knowing that it is safe for you and your family. 
Protect your oral health by using the best dental products available. Enroll with EDP and schedule an appointment with a dentist today to ask about recommendations for safe and effective products.