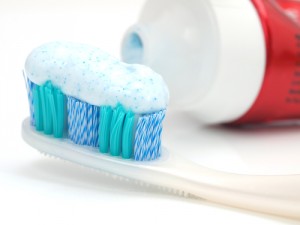 There are so many brands of whitening toothpastes at your local store, and many wonder if they are worth the additional expense. Tooth whitening toothpastes can be an effective way to get a deep clean, but only if they're used regularly over time.
How Do Tooth Whitening Toothpastes Work?
Most whitening pastes contain abrasives, such as silica or baking soda, which scour the teeth's surface and remove stains. Sodium hexametaphosphate may be added to loosen stains, resulting in a brighter smile, but not the brilliant results you might get from a professional whitening treatment.
Other products actually do contain mild bleaching agents, such as peroxide. But because toothpaste remains in the mouth for only a few minutes, it has limited ability to make a significant, lasting change in the color of your teeth.
Some tooth whitening toothpastes contain blue covarine, which sticks to the teeth and helps to counteract yellowing. This effect is purely cosmetic—and temporary—so you may notice a difference even after the first use.
Waiting for Results
After using whitening toothpaste consistently—twice a day for a few weeks—you should start to see a subtle difference. Stain removal should gradually progress. Again, keep in mind that to whiten your teeth by more than a shade or two, you'll need to pursue a more intensive route, either at home using BleachBright or with an in-office procedure.
Of course, professional care helps keep your teeth whiter and healthier. Get a more effective result from tooth whitening toothpastes by visiting your dentist for regular checkups and cleanings. Save up to 70% off of those visits by enrolling in EDP Dental Plan. Call 631.272.5230 or register online, and enjoy instant benefits with no waiting period.