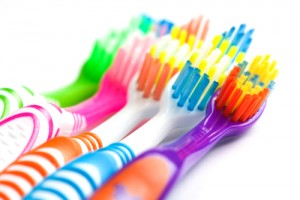 When was the last time you shopped for a toothbrush? Being faced with so many choices can make it difficult to make a decision. Mostly any type of brush will get your teeth clean, but which one is best for you? In order to find your ideal toothbrush, you'll need to narrow down your choices based on a few categories.
Manual vs. Electric Toothbrushes
First, decide whether you want an electric toothbrush or a disposable one. While electric models are more expensive than conventional brushes, they're especially helpful to users with physical limitations. However, if you're able to brush thoroughly and your checkups usually go well, a power model may not be necessary.
The Toothbrush Head
Most mass-market toothbrushes feature nylon bristles. It's important to choose extra-soft or soft bristles, as these are gentler on not only the soft gum tissue, but on the tooth enamel as well. Rounded bristle tips provide an extra measure of safety.
Like mouth sizes, toothbrush head sizes also vary. Choose a head that fits your mouth and your brushing technique. You may even wish to consider a child-sized brush if that's what works best for you.
Additional Pointers
Look for the American Dental Association's (ADA) seal of approval on dental products. This seal means that the ADA has verified that the item meets their quality standards so you know you're getting a safe and effective product.
Check with your dentist or hygienist to see if an electric toothbrush could make a significant difference, or perhaps they can recommend a specific type of brush for you. Many dentists even provide you with a new toothbrush when you visit!
Before you make your next dental appointment, check out the benefits of an EDP Dental Plan. It's a discount dental plan that can reduce your dental care costs by up to 70%. Call 631.272.5230 or register online today.