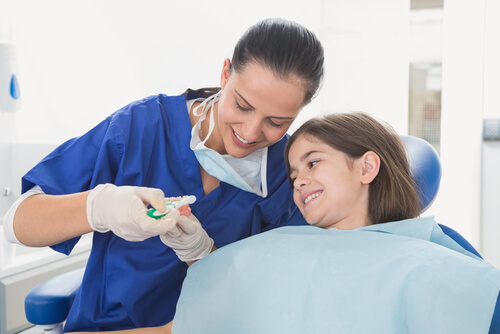 When it comes to your child's well-being, oral health matters. Early childhood dental visits are essential in preventing cavities, tooth decay and other dental problems. In fact, parents are advised to bring their children to the dentist within six months of their first grown tooth or as early as their first birthday.
Why see a Pediatric Dentist?
Professional pediatric dentists are experienced and qualified to treat children's teeth, mouth and gums. Pediatric dental professionals complete at least four years of dental school and two additional years of training in dentistry for children.  They are well-versed in childhood behavior and focus on making the dental experience positive and enjoyable for kids.
Pediatric dental offices are usually designed with children in mind, incorporating exciting themes, toys and games. This creates a friendly environment for kids, teaching them that caring for their teeth can be fun.
Pediatric dentistry provides wide-ranging oral health care for children, including:
Preventive care and management
Treatment for dental injuries
Diagnosis of oral conditions or diseases
Nutrition and diet recommendations
Early orthodontics assessment and treatment
Oral habit counseling and advice
Finding an Experienced Pediatric Dentist
EDP offers talented range of skilled  pediatric dentists that are qualified in pediatric care. Bring your child to an EDP provider today. Enroll via our registration form or call to speak with a helpful customer service representative toll free at 1.877.327.8376.