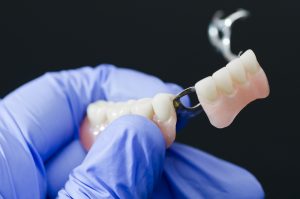 Birth defects, or the loss of our natural teeth due to an injury or as we age, can cause embarrassment and cause some to withdraw socially. A prosthodontist, one of the 9 specialists recognized by the American Dental Association (ADA), is a dentist who specializes in esthetic dental restoration and tooth replacement.
Ensuring that teeth are sound and appealing to see requires several years of additional, specialized ADA-accredited training once they graduate from dental school. This additional training enables this dental specialist to lead teams of general dentists and other specialists to develop solutions for individuals in need of their skills. They strive to preserve healthy mouths, and create tooth replacement solutions for every patient under their care.
Preserve Your Teeth to Keep Your Smile Healthy
Prosthodontists are qualified to offer the following procedures and techniques for:
Persons born with cleft palate or missing teeth
Lost tooth replacement
Traumatic injuries
Temporomandibular joint syndrome/disorder
Cosmetic dentistry
Special needs of geriatric patients including complete and removable partial dentures
Snoring and sleep disorders
Maxillofacial prosthetic procedures including oral cancer reconstruction
The services of many dental specialists, including Prosthodontists, may not be covered by dental insurance. If you do not have dental insurance and want to consider an affordable discount dental plan, call EDP Dental Plans. While not dental insurance, our affordable plans provide great discounts on dental specialist procedures, including Prosthodontal work. Give us a call to discover how an EDP Dental Plan can be right for you and your smile: (800) 777-1085.