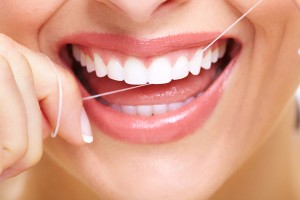 Strong healthy teeth are a sign of youth and vitality. Once lost, it is beyond the financial reach of most of us to have a cosmetic dentist give us something to smile about again. As children we learn the importance of developing sound dental hygiene practices. These are meant to be carried out for the remainder of our lives to ensure our teeth make that journey with us! Here are some tips as a gentle reminder if you have gotten lazy about taking good care of your teeth. Think about ramping up your oral hygiene habits today!
Regular Professional Care: See your dentist at least once a year and your dental hygienist at least twice. Despite your best daily efforts, plaque and tartar will accumulate on your teeth. Your dental professionals can remove all traces, and address bad breath and other unpleasant oral conditions at the same time.
Brush daily: There are cases for brushing twice or more a day. After meals and before bedtime is best to establish a routine and stick to it. Be sure to replace your toothbrush every 3 to 4 months, or when it shows signs of wear. Or if you use a battery-operated toothbrush, replace the head every two months. But do not stop there!
Brushing Your Teeth is Just the Start: Read On!
Floss: Toothpaste does not remove debris from between teeth. Bacteria and plaque formation begin where brushing alone does not reach. Flossing will greatly reduce plaque formation and help keep your breath fresh.
Mouthwash: Be sure to wash away all debris brushing and flossing remove so it does not reattach to teeth and gums. Gargle at least 30 seconds; consider using an alcohol-free product if you have sensitivity issues. Mouthwashes are available in herbal and fruit flavors. You are bound to find one that makes you enjoy using it.
Change your toothbrush: Brushing your teeth deposits harmful bacteria on your toothbrush over time. And vigorous brushing frays bristles making brushing your teeth less effective. Every three months you should purchase a new toothbrush in the bristle strength that's right for you. It's another way to make your daily routine less of a daily chore.  Your healthy mouth will thank you!
Brushing Your Teeth Bonus Tip:
Save money on expensive bottled water. Fluoride helps fight cavities, bottled water does not. Drink your fluoridated tap water. Call your local water authority to confirm that your water system contains flouride. If your tap water tastes unpleasant, install a filter that does not remove fluoride and reap the financial benefits at the supermarket and your dentist's office.
Let EDP Dental assist you and your commitment to improving your dental hygiene. Start by locating a quality and affordable EDP Dental Plan Dentist. EDP prescreens all dental health professionals and has an expansive provider network -so it's likely that your dentist is already within our network! To join the EDP Dental Plan today, enroll online or call 1.877. 327.8376.