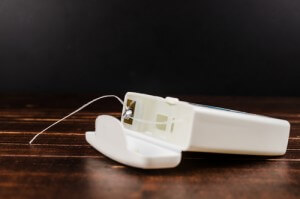 Flossing is an integral part of keeping your teeth and gums healthy. Flossing regularly in addition to brushing twice a day is effective at keeping plaque and tartar buildups to a minimum. But what about those back teeth that you just can't seem to reach? Do you have problems reaching into the back of your mouth because of arthritis? Do you have a special medical condition, like diabetes, which necessitates better than normal oral hygiene? Or do you have braces, which makes flossing difficult at best and painful at worst? Then you might want to contemplate buying a water pick, especially when you consider the advantages of water picks vs. flossing.
Another advantage of water picks vs. flossing is that instead of water, you can fill your water pick with mouthwash instead. You will effectively eliminate more bacteria than you could just by brushing. Your molars will also welcome the extra fluoride treatment. If you have questions about fluoride treatments, you can call your EDP dental specialist today and speak with someone in the office who can offer some guidance.
It is important to note that water picks shouldn't be used in place of flossing. They are meant to be used in addition to your regular regimen of brushing and flossing. For those people who have problems flossing, then water picks may play a more significant role in reducing the chances of gum disease but nothing replaces actual flossing. For your best chances at maintaining a healthy mouth, regular brushing, flossing, and use of a water pick definitely make for a solid preventative plan.
If you do not have dental health insurance and would like to explore an affordable alternative, please contact us. With EDP Dental Plan, you will save up to 60% on your dental care —without the inconvenience of claims or paperwork. Call 1.877.327.8376 or register online today!