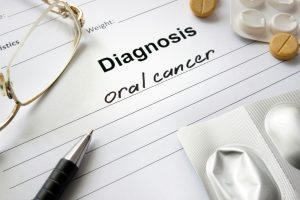 Many may not be aware, but cancer can invade the mouth. Also the earliest signs of oral cavity and oropharyngeal cancer could easily be mistaken for other, less serious ailments such as a cold or even a toothache. Below some of the most common symptoms of oral cancer are listed. Should you experience any of these and they persist for several days or longer, please see your doctor for a thorough diagnosis.
It is important to see your physician so that if oral cancer is present, diagnosis can be made quickly. And, as many of the symptoms listed below are shared with far less serious dental issues, it is possible that many of these symptoms may not be cancer and you'll be advised to see your dentist for their treatment.
Common oral cancer symptoms and signs include:
A sore in the mouth that does not heal is the most common symptom of oral cancer
Persistent mouth pain is another common oral cancer sign
A lump or thickening in the cheek
A white or red patch on the gums, tongue, tonsil, or lining of the mouth
A sore throat or sensation that something is caught in the throat
Difficulty swallowing or chewing
Difficulty moving the jaw or tongue
Numbness of the tongue or elsewhere in the mouth
Dentures do not fit well due to a swollen jaw
Loose teeth
Tooth or jaw pain
Voice changes
A lump in the neck
Weight loss
Chronic bad breath
Should your physician suspect oral cancer, he or she will order tests.  As with any possibility of cancer, having your condition diagnosed as soon as possible will help ensure that treatment will be as effective as possible. And should your condition prove to be non-cancerous, see your EDP dentist as soon as possible to avoid tooth loss or infection. If you do not have dental insurance, contact EDP Dental Plans. While not dental insurance, we provide discount dental services that anyone can afford. If a lack of dental insurance has kept you from seeing a dentist, do not neglect your oral health any longer! Call us at (800) 777-1085 today!