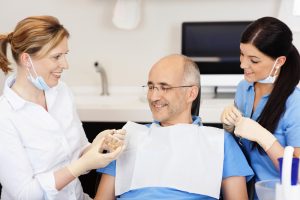 After a root canal there are several options for restoring the appearance of the affected tooth. In cosmetic and restorative dentistry, dental crowns are the preferred restoration technique as they not only restore but can also improve the outward appearance of a tooth. Most often this procedure bolsters damaged teeth but is also employed to disguise dental flaws such as teeth that are misshapen. Custom porcelain crowns are quite common today and are made to completely blend in with surrounding teeth. As with every dental procedure, there are benefits and what some patients might consider drawbacks. If you are considering a crown as a dental solution, be sure to read the pros and cons to make an informed decision.
Benefits of Dental Crowns:
Crowns improve the appearance of teeth. When used for this application they can:
Conceal a dental implant
Change the shape of a tooth to match those that surround it
Correct discoloration caused by illness or medication
As a restorative solution, dental crowns may be used to:
Restore teeth after undergoing a root canal
Protect worn teeth from further erosion
Support teeth decayed through neglect
Anchor a dental bridge to surrounding healthy teeth
Caveats to Consider Regarding Dental Crowns:
Temporary or permanent sensitivity to hot and cold foods and beverages
Discomfort when chewing
Gum tenderness
Allergic reaction: some patients may experience an allergic reaction to the materials used in this process
Both the initial procedure and its eventual replacement are generally not covered under most dental insurance plans – the procedure averages about $1,000
EDP Discount Dental Plan members, however, can save up to 25% off the regular fees for specialized dental procedures, such as root canal and dental crowns.
Replacement: dental crowns usually last for up to 15 years before requiring replacement
Specialized dental procedures such as dental crowns are not generally covered by most dental insurance policies. These policies also carry an annual expense cap of about $1,500. While not dental insurance, EDP Dental Plan provides those without dental coverage discounts of up to 60% off what a practitioner routinely charges for a procedure.
This includes regular checkups and cleanings as well as procedures performed by dental specialists. We have affordable plans for singles, couples, and families. One will be a perfect fit for your dental requirements. To learn more about our dental plans and to start saving on your dental health care costs today, call our representatives at (800) 777-1085.